Assemblies will be:
held period 6 (2.40 – 3.30pm) on Fridays
held fortnightly on most occasions (please refer to the events page for scheduled assemblies)
whole school assemblies
held in the new Multi Purpose Room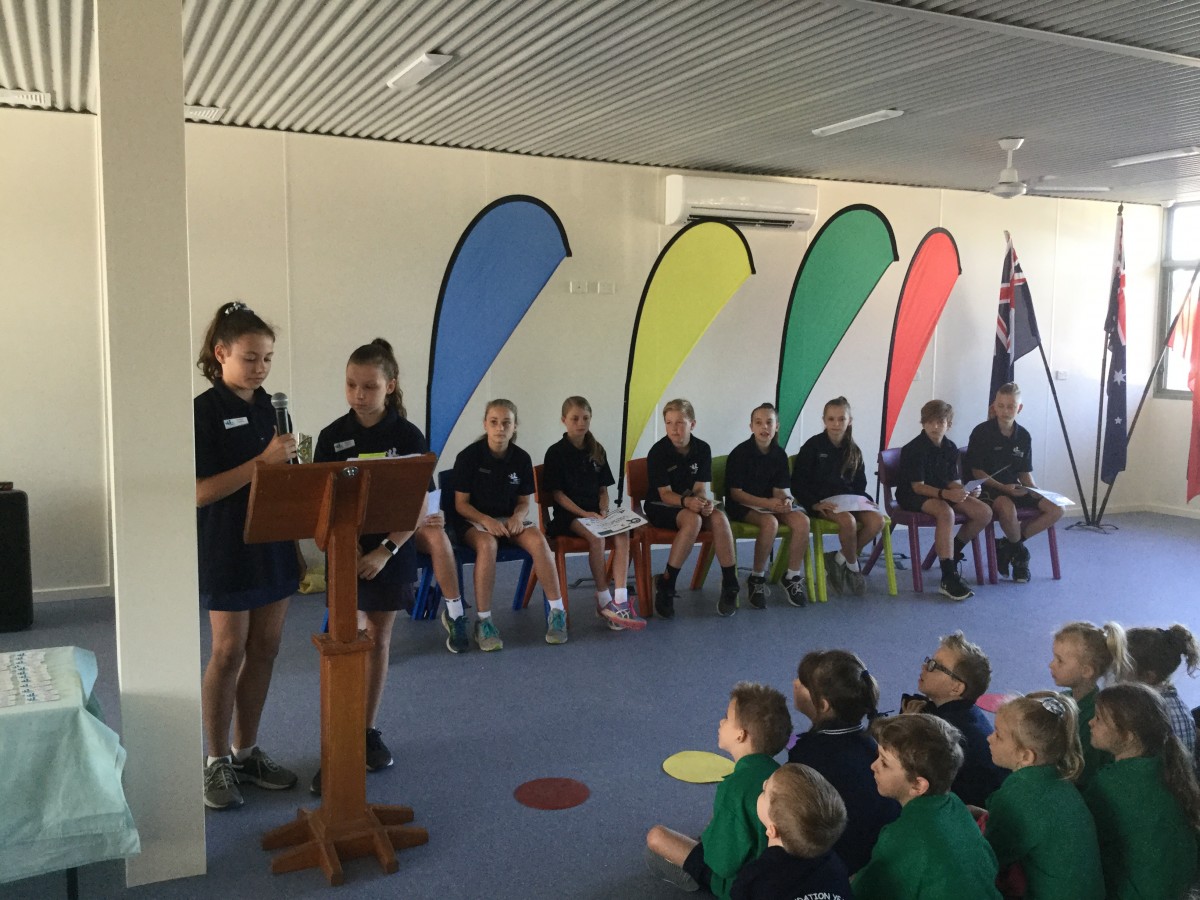 Attendance
Attending school every day is vital for students of all ages to fully achieve.
We all want our students to get a great education, and the building blocks for a great education begin with students coming to school each and every day.
Missing school can have a major impact on a child's future – a student missing one day a fortnight will miss four full weeks by the end of the year. By Year 10 they'll have missed more than a year of school.
There is no safe number of days for missing school – each day a student misses puts them behind, and can affect their educational outcomes.
If your child does miss a school day due to illness, please inform the school via our communication app 'Compass'
Camp Australia – After Hours Care
About the program at Cranbourne South Primary School
The Outside School Hours Care program at Cranbourne South Primary School provides time for homework, time to relax, educational activities and a healthy snack. Best of all, our program makes time for kids to be kids – to play and explore, share with friends and enjoy these precious school years
Registration Explained
Request the information Pack
This is a great way to get started. Because we will be taking care of your child, we need to know if they have any medical conditions, who is authorised to collect them, what government rebates you are eligible for and lots of other things. Rather than starting the process and then looking around for the things you need, request a full information pack and we'll send it to you instantly via email. The kit includes: Further information about us, our programs, medical and special needs, our staff, food, how to book a session, program contact details and escalation points.
Full Registration
Before you get started with Camp Australia – you must register for an account. Once you have registered you will have access to the Parent Portal – where you can make and cancel bookings 24 hours a day, 7 days a week. You can even manage your account on-the-go, from a mobile phone, iPad or tablet computer.
Bookings
When completing your enrolment details online, you will indicate what type of booking you need to make. We have two types of bookings:
Permanent Booking: These bookings are made as 1 session or more per week for an entire term. Permanent bookings will automatically carry over until notification of a change is received by our Customer Service Team.
Casual Booking: These bookings can be made right up to the session commencement time. The Casual Booking fee attracts an additional cost on top of the Permanent Fee, as we will need to arrange for additional food, resources and potentially staff.
Cancellations
Cancellations need to be made a minimum of 7 days prior to the scheduled date of attendance at the OSHC Service to avoid incurring the full session fee. We need this notice to make sure we plan the staff rosters accordingly and also to avoid wastage of food.
Cancellations made with less than 7 days notice will incur the full fee of the booked session, and will be deemed as an Allowable Absence. In accordance with Camp Australia policy and in line Government Regulations, a Doctors Certificate will not be accepted as a reason for non-payment of a booked session.
If you do need to cancel your child/children's attendance for a Service, please let us know – that way we are sure your child is safe. Cancellations need to be made by the Parent or Guardian, not by the child.
Payment
Accounts will be issued to you on a fortnightly basis in arrears, to the address nominated by you on your Enrolment Form. Method of payment is by automatic Direct Debit from either your nominated Bank Account or Credit Card.
Where to find us:
Contact & Service Details:
Opening Hours:
Before School Care (BSC) 6:30am – 8:45am
After School Care (ASC) 3:30pm – 6:30pm
Service Coordinator:
Reece Black
Mobile: 0422 009 078
Head Office:
Phone: 1300 105 343
Email: info@campaustralia.com.au
Bazil Catering is the supplier of our school lunch orders which are delivered to the school each Thursday and Friday.  To place an order with Bazil Catering you use the Flexischools app.
The Cranbourne South General Store also offers a variety of lunch options that parents can purchase before school Monday-Friday.  Please note, there is no delivery option through the general store.
Flexischools download link: https://www.flexischools.com.au/
How to place an order: Flexischools ordering instructions
Further lunch order information: Bazil Catering Lunch Orders
Enrolment
Starting school for the very first time is a very special milestone for both child and parent, at Cranbourne South Primary School we start accepting Prep enrolments in April for 2020. Children wanting to start Prep must be five years of age (or older) by the 30th of April in the year they start school. All enrolments to our school require an interview before enrolling. This helps to ensure that the correct enrolment form is completed and that the transition for you and your child is a smooth as possible. Please contact the school office on 9782 2999 to make an appointment.
Kindergartens and Day Care Centres
Our Local community has a variety of carers for our children. If your child attends one of our local Kindergartens or Day Care Centres you will be asked to start looking at schools for your child to attend by the end of Term 1.
Cranbourne South Primary School works with all the Kindergartens and Day Care Centres to ensure a smooth transition for you and your child to Primary School. Transition days are held in Term 4 for your child as well as Parent Information Sessions.
What if my child does not attend Kindergarten or Day Care
This is fine as this is a choice that as a parent you and your family have made. For this reason information will be updated on the website, and once you have enrolled at Cranbourne South Primary School you will receive information in the mail.
Make an appointment today, call us on 9782 2999
Our school zone is available on findmyschool.vic.gov.au This website hosts the most up-to-date information about Victorian school zones for 2020 onwards. Students residing in the CSPS zone are guaranteed a place at our school, which is determined on the basis of your permanent residential address. The Department provides guidance through the school Placement Policy to ensure that students have access to their designated neighbourhood school and the freedom to choose other schools, subject to facility limitations.  You can find more information and answers to frequently asked questions on the Department's website under School zones.
ABN:  74 235 948 443
Cranbourne South Primary School accepts payments via the following methods.
If you would like to use the Direct Credit method please click on your banks logo (if yours isn't there let us know).
The following information is the schools account details:
BSB: 063 250
Account Number: 10088806
Account Name: Cranbourne South Primary School Council Official Account
Description Field: child's name and what you are paying for
CSEF | 2018
Department of Education Information
​​​​​​​​​The Camps, Sports and Excursions Fund (CSEF) provides payments for eligible students to attend activities like:
school camps or trips
swimming and school-organised sport programs
outdoor education programs
excursions and incursions.
This $148 million initiative helps ensure all Victorian students can take part in school trips and sporting activities. The fund commenced in 2015 and will initially run for four years.
Payments are:
$125 per year for eligible primary school students
$225 per year for eligible secondary school students.
Payments are made directly to the school and are tied to the student. Most payments start from March onwards.
Applications can be received over term one and two. Payments are for the application year and cannot be claimed for previous years.
Year 7 and Prep students in government schools who receive the fund are also able to get support for school uniforms. For more information regarding this initiative, see: State Schools' Relief
The CSEF payment cannot be used towards voluntary school charges, books, stationery, school uniforms, before/after school care, music lessons, or formals/graduations.
Parent Payment Policy
Department of Education Information
Parent Payment FAQ for parents
Understanding Parent Payment Categories
The Parent Payment Policy provides guidelines to ensure that parent payment practices in schools are consistent, transparent and that all children have access to the standard curriculum.  Each school determines whether an item, activity or service is an Essential Student Learning Item or an Optional Item within the context of their distinct learning and teaching program.   The CSPS Finance sub-committee of School Council ensures communication of the rationale for the classification of items, activities or services, requested and charged, is in accordance with the Department of Education (DET) guidelines.
To ensure value for money, multiple quotes from reputable companies are obtained every 3 years, per the School Council and Finance Sub-Committee, to ensure value for money.

If parents wish to purchase items independently, a booklist is available, however:

The same brand and quantities of items on the list should be purchased, so that all students have the same.

GST will be applied to the final price.  GST is excluded if purchasing through the school.

Items can be taken home for naming/covering, but ALL must be returned to the school.

Items are kept by the classroom teacher, and are distributed throughout the year as needed.

Any left over items will be sent home at the end of the school year.

School Council is primarily responsible for the maintenance of school grounds.  In addition, funds are provided by DET as well as much appreciated fundraising.  School Council has approved a request for contributions to raise additional funds to address minor/major projects, to ensure our school is of the highest standard.  2018 projects align with the School Council Buildings & Grounds sub-committees priorities.
To further assist with smooth organisation of events, families are asked to adhere to all due dates of return slips and money.
No late payments will be accepted unless prior discussion with the Principal. 
Requests for refunds must be given in writing and approved by the Principal.  Please see our Refunds Policy for further information.
Please find at the link provided valuable information for parents to access per laws on child restraints in cars.
https://www.racv.com.au/on-the-road/driving-maintenance/road-safety/child-safety/child-restraints.html 
Student Leadership | 2019
CSPS will provide leadership badges referring to the following positions.  Any replacement badge are required from families to arrange directly through C&D Trophies, 307 Cranbourne-Frankston Rd, Langwarrin VIC 3910 (03) 9789 4979.
2019 School Captains
Teacher leader: Liam Gillick
SCHOOL CAPTAINS
Belle C
Tyson R
BAANY (BLUE) HOUSE CAPTAINS
Angel J
Lauren P
BIIK (GREEN) HOUSE CAPTAINS
Frazer H
Mackenzie V
WIINY (RED) HOUSE CAPTAINS
Tayla A
Shardae B
MUNMUT (YELLOW) HOUSE CAPTAINS
Izzy A
Samantha H
LIVELY LEARNING LEADERS
STEAM:  Connor B & Grace G
Physical Vibe:  Lilly A & Jacob S
Student Liaison:  Maddy C & Millie M
2019 Junior School Council leaders
Teacher leaders:  Phillipa Atherton and Katelyn Watkins
F/1a Zac L & Indy H
1a Jack C & Mia H
1b Levi B & Mackenzi H
2a Joshua G & Arizona D
2b Ava C & Lara A
3a Ruby M & Molly M
3b Seth A & Kya P
3/4a Tye W & Josie P
4a Kole B & Willow R
4b Taya C & Jackson A
5/6a Marcos B & Koby E
5/6b Ryder M & Sophie M
5/6c Rory M & Lilly M
5/6d Mackenzie P & Destiny L
2019 Sustainability and Environment Team
Teacher leader:  Reagan Ryan
1a Blake G & Ava M
1b Mackenzi H Stevee C
F/1a Mille D & Mackinley C
2a Archie J & Bliss B
2b Ruby A & Harmony B
3a Finlay V & Bryce P
3b Elyce M & Asher B
3/4a Bella K & Nathan P
4a Matehuirua M & Shannan N
4b Hunter Y & Chloe D
5/6a Logan C & Indy O
5/6b Tamika C & Seamus S
5/6c Kiera A & Sean W
5/6d Liam E & Chyler W
2019 i sea i care leaders
Teacher leader:  Reagan Ryan
Zoe V
Ebony M
Marlie W
Ruby G
Junior School Council role description
At Cranbourne South Primary School, we believe our students should be actively involved in making our school a better place. Junior School Council provides an opportunity for ambitious and enthusiastic students to have a positive contribution in the decision making processes of the school. It aims to provide students with a sense of pride and achievement within the school and wider community.
Each class above Foundation has two Junior School Council Representatives who have been identified as exceptional role models in their class. These members represent their peers and will meet regularly to discuss issues of importance to the students of our school. Junior School council members will also assist with social service fundraisers for various charities and organisations.
JUNIOR SCHOOL COUNCIL EXPECTATIONS:
JSC Representatives must set a good example for all other students in the yard and the classroom.

JSC Representatives must demonstrate the school values; Positivity, Persistence, Pride and Passion.

JSC Representatives must display leadership qualities (kind, good behaviour, organised, confident presenter etc).

JSC Representatives must be willing to give up some of their lunch yard time to attend JSC meetings and projects.

JSC Representatives must be willing to speak at meetings on behalf of their classmates and make appropriate suggestions to improve our school.
Sustainability and Environment Team role description
To assist in making a noted footprint on our contribution to environmental care and use of utilities and resources in the school, can you please add the name of your sustainability warrior(s) for your classroom.  When completed by all classroom teachers, I would like to have a meeting with these students to outline their roles; date/time TBC to promote the importance of their role.
Some of the Sustainability and Security warrior responsibilities may include, ensuring:
leading by example to other students.

all lights are turned off when class exits space ie. classroom, Lively Learning space, other eg. Library.

fans and heaters/air conditioners are turned off when class exits space.

class abides by rubbish collection in appropriate receptacles and day/time of collection ie. green, recycling, large hopper etc…

remind students of 'nude food' eating in classroom, eating under the rotunda and placing rubbish in bins.

students place chairs on table per table cleaning day roster.  

Note: cleaners are responsible to 'clean' not pick up rubbish in classroom.

taps are securely turned off.

doors are securing locked (and double checked) when exiting a space ie. classroom, Lively Learning space, other eg. Library.

printing to photocopiers is set to black/double sided.  

Note: colour printing is only for 'special occasions' and is after classroom teacher approval.  

all printing is promptly collected from photocopiers.

report any concerns to the classroom teacher.

Our uniform can be purchased from Primary School Wear (PSW) located at:
PSW HAMPTON PARK
Unit 2, 10-12 South Link, Dandenong South, VIC 3175
Phone: 03 8768 7490
Fax: 03 8768 7499
If you are unable to visit the store there is an online order facility.
PSW Customer Service
Customer service can assist you with garment inquiries and order information. Hours of operation are Monday to Friday 8:30 am to 5:00 pm Australia Eastern Time. When calling PSW about an order, please have your invoice number available. These were e-mailed to you following your order.
If you are e-mailing PSW about an order, please remember to include your invoice number in your message.
IMPORTANT INFORMATION
We cannot accept responsibility for delays in delivery due to unforeseen circumstances including Strikes, floods etc. All colours of garments are reproduced as accurately as possible, however a slight variation may occur in colour and size specifications. Colours may appear slightly different via this web site due to computer picture resolution and individual monitor settings. Offers available until stocks sell out.